** Interested in a quick snapshot of Green Bluff Real Estate? Go to the end of the post to see market statistics and a link to an interactive map of 2021 Green Bluff sales. Or you can jump right to the Sales Map here: https://rpubs.com/CodyKerr/856538 **

The Northwest's Best Kept Secret…….Being Discovered

"Good things come to those who wait." But have you ever heard this quote credited to Abraham Lincoln? "Things may come to those who wait, but only things left by those who hustle." It's been said, "Haste makes waste." Though, I think old Abe had wise motivation in mind rather than wasteful haste.
Real estate in 2021 left scraps for those who waited, and people even fought over those! Folks who were able to buy a home acted quickly and decisively – motivation. Believe it or not, the Spokane area made the charts as one of the nation's hottest real estate markets. Will it cool down? Eventually, but it doesn't look like any time soon. Spokane County is postured for a strong, or crazy, real estate market in the years ahead. What's causing this?
Four major factors: 1) The Growth Management Act, 2) Population Growth, 3) Building Permits & Material Costs, and 4) Loan Rates. On their own, each is not necessarily an issue. However, all of these have combined to create the "perfect storm," if you will.
Washington adopted the Growth Management Act (GMA) in 1990 to manage population growth through development planning. Certain areas outside cities/towns called Urban Growth Areas (UGAs) are marked for future high density housing developments. Beyond UGAs, land can't be used for high density development. This limits where and how many houses can be built. The boundaries of UGAs aren't up for expansion any time soon. For now, the only place for high density housing developments is inside of the UGAs.
Check out an interactive map of Spokane County Urban Growth Areas in the link below:
https://rpubs.com/CodyKerr/856495
Spokane County's 2020 population was almost 540,000, according to the 2020 census; a recent census housing stat also reported that there are 223,079 housing units in the entire county[1]. From 2019-2020, just over 24,000 people moved here. Building permit stats for Spokane County show that there aren't enough housing units being built to keep up with the population growth. Projections for the future suggest that the Spokane area will continue to see more people moving here. The projected population growth and lack of housing units means that the housing market will see significant pressure and more rising prices!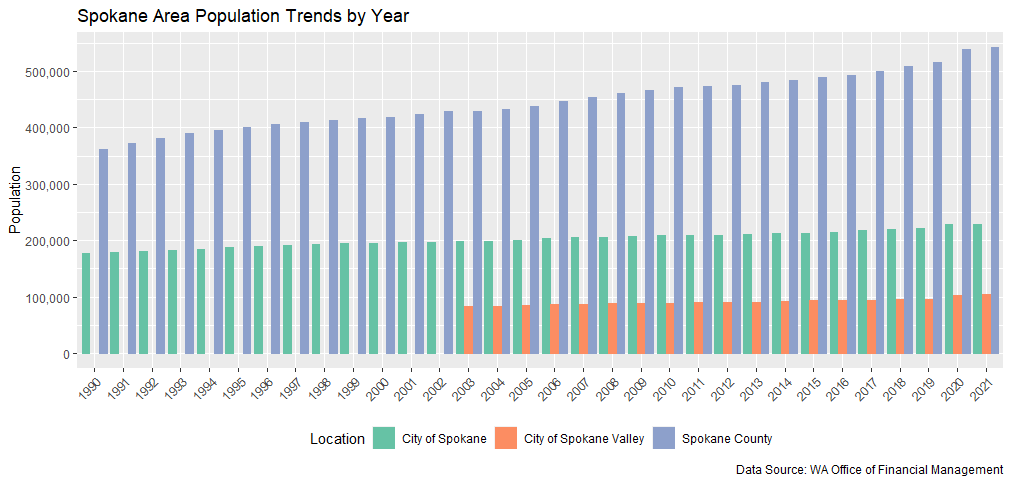 As if population growth and limited development areas weren't enough, lumber prices were at all-time highs in 2020-2021. Builders aren't in business to lose money, so the high material costs result in big price tags for new homes. Simply put, many people can't afford a new home right now, which floods more people to existing homes when they can't buy new, in addition to the already saturated "pre-owned" home market.
To top it off, mortgage interest rates in 2021 averaged 2.96%[2]. Some say this is "free money," but wisdom says, "the borrower is slave to the lender" (Proverbs 22:7). I get it, though. The cost to borrow for a home is pretty cheap recently. This draws even more people into an already competitive housing market that doesn't have enough homes for those shopping now, let alone homes for the newcomers, resulting in rising housing costs.
So, what do these combined forces mean? It would be nice if it were like the cartoon Captain Planet. The Planeteers' combined
forces were a good thing. Sadly, the mix of limited development areas, population growth, lack of housing, expensive materials, and low mortgage interest aren't so good. For many, buying or renting a home is out of reach. With fewer people able to buy a new home, even some builders can't afford the cost of doing business. The once Near Nature, Near Perfect has brought people nearer sooner than expected. Short of an act of God, Spokane's housing crisis will continue for a while, and home prices will keep increasing. So, what do we do?
One possible solution is an ADU. It's short for Accessory Dwelling Unit. Basically, it's a small home on a property that's secondary to an existing home. An ADU offers several benefits, especially in farming communities.
To start, you don't have to exchange farmland for new homes. The ADU can attach to your existing house, or sometimes it's allowed to be detached on your home parcel. It can be used to house family or friends in need. For farmers who need an extra hand, an ADU is also a good solution. Rent it to someone for extra income, or offer a work trade for housing. Let an aspiring farmer pay for his or her housing by working your farm and living in your ADU. You get extra help while providing someone a home. Better yet, you pass on the skill of farming to the next generation.
Spokane County has different requirements depending on the zoning and layout of your parcel, but most rural zones allow ADUs. If you think it might be a good solution, I'd be happy to help you research the process, so feel free to give me a call.
End Notes:
1. https://www.census.gov/quickfacts/fact/table/spokanecountywashington,spokanecitywashington/PST045221
2. http://www.freddiemac.com/pmms/pmms30.html
Spokane Real Estate Market Review – 2021
Green Bluff Real Estate Market Review – 2021
Link to 2021 Green Bluff Market Area Sales Map:
https://rpubs.com/CodyKerr/856538