Green Bluff Newsletter – Winter/Spring 2020
Spokane Market Review for 2019

2020…. What is it? Hindsight? Perfect vision? A Barbara Walters legacy – anyone remember that show? A new start? Sure, it can be all of those things. I'm not Barbara Walters, but, indeed, "This is 2020." It's hard to know where we're going without knowing where we've been. 2019 was a great year for Spokane and Green Bluff real estate, and it looks like there is more of the same for 2020.
Can the current Spokane and Green Bluff real estate markets be described in one word? Sure they can: HOT! No winter cool down here, folks! Property is selling like hot cakes! Now, I'm not sure if you're having a hard time getting a hot cake or not, but the gist of the expression here is that there's simply not enough real estate for sale for everyone to have a slice of the pie, or hot cake, or gingerbread house if we're talking real estate. Not enough houses for sale means low inventory. Oh, did you hear about the last remaining rental house on the market? It was last but not leased! Sorry, bad real estate inventory joke, but I think you get it. Here's the math: Too much demand + not enough supply = Rising prices.
The chart below shows the average and median sale prices for 2019 in the Spokane area.

What's causing such a flurry of activity? Several conditions escalating at the same time have almost created the "perfect storm." The Spokane job market has grown, unemployment decreased, people are earning higher wages, more people are moving to Spokane each year, the cost of living is low compared to many other metro areas, and, perhaps most influential of all. . . the millennial generation has hit the market.
Spokane is a great place to live, work, and play. Out of the top 10 states to move to, Washington ranked #8, according to Moving.com. With more and more people recognizing this, both locals and transplants want a place of their own, which creates a huge demand for housing. If people need a place to live, most choose to rent or buy. Sales remain steady, but low inventory and demand for housing is causing rental rates and sale prices to increase sharply.
The Spokane Association of Realtors (SAR) reported that the Spokane market had another strong year. Values are up about 11% from 2018 for single-unit properties and condos on less than one acre. For properties on 1-5 acres, the SAR reported almost 6.5% appreciation. The urban and suburban markets continue to perform well.
Another indicator of market strength is to look at how many properties were listed for sale and ask, "How many sold and how many didn't sell?" There were almost 7000 properties under 1 acre listed for sale in 2019, and 90% of those sold. Wow! In slower and weaker markets, you'll start seeing a higher percentage of properties that don't sell. Remember that statement because we'll revisit it in bit. The Spokane real estate market had a stellar 2019.
The image below from realtor.com shows the Spokane area. "Hotness" (high being 100) is broken down by zip code showing the Spokane area as very active.
For more detailed information see https://www.realtor.com/research/reports/hottest-markets/
Green Bluff Market Review for 2019
2019 was exceptional for Green Bluff real estate. Property values increased about 13.5% (avg & median combined) from 2018! Ironically, rural markets are normally slower than their urban and suburban counterparts, but Green Bluff outpaced Spokane's appreciation of about 11% in town and about 6.5% in suburban areas. Green Bluff's average sale price in 2019 was $485,000; the median sale price was $463,000. 13.5% appreciation! Wow!
The charts below show the overall Green Bluff market conditions since 2000 followed by a 5-year snapshot.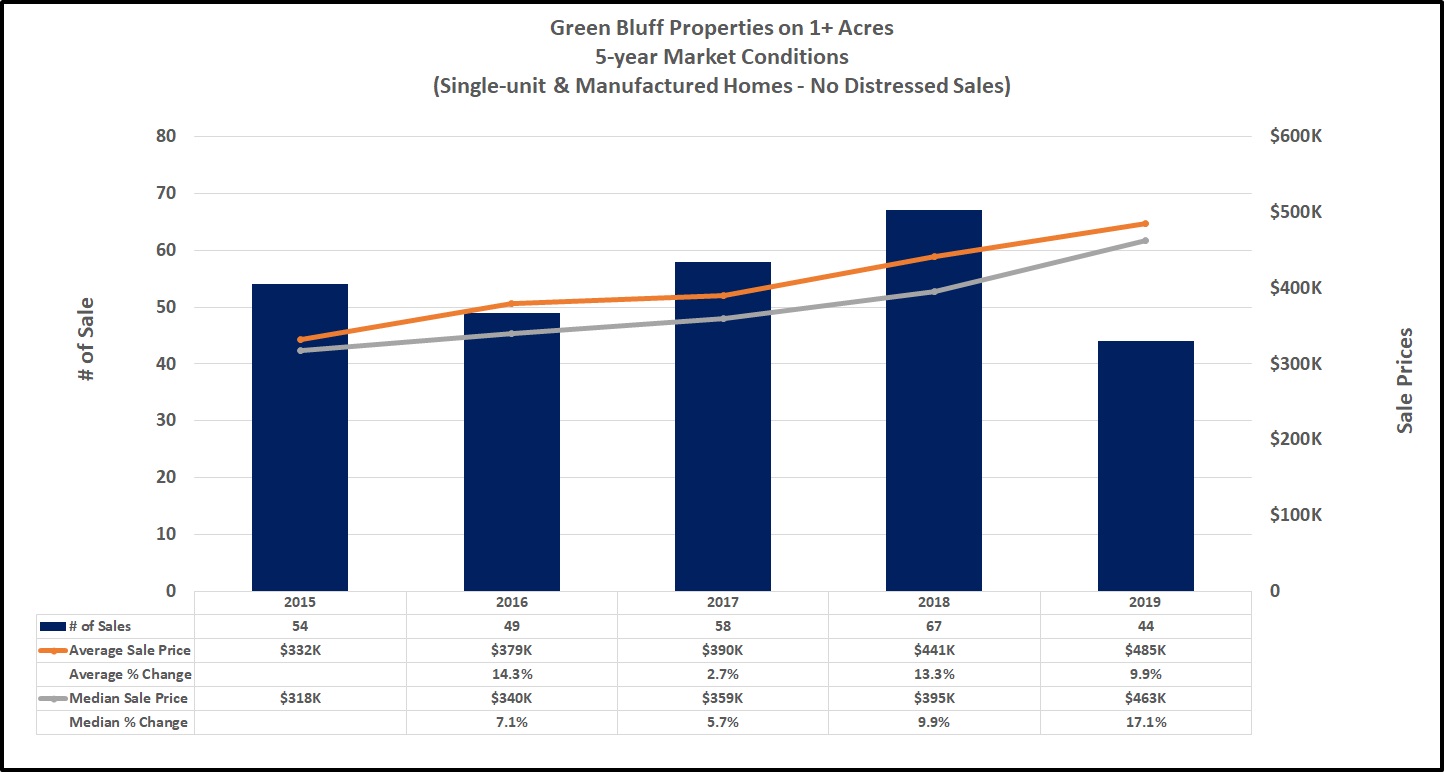 This appreciation didn't happen as expected, though. Normally, how it works is like I said earlier: Too much demand + not enough supply = Rising prices. Problem is, though, supply wasn't an issue in Green Bluff in 2019. There were enough homes to buy. What's even more odd is that of all the properties put up for sale in Green Bluff this year, 40% of them didn't sell.
So, what's the deal? Why did prices go up so much, especially if not all properties there are selling? And why aren't some of those properties selling? Remember that in slower and weaker markets you'll start seeing a higher percentage of properties that don't sell? So, what do you make of the fact that of all the properties listed for sale in Green Bluff in 2019, 40% of them didn't sell? 13% appreciation in 2019 doesn't indicate that the Green Bluff market is slow or weak; so what's the explanation?
Primary Reasons Why a Property Doesn't Sell
There are three primary reasons property doesn't sell in Green Bluff and in general.
Why a Property Doesn't Sell – 1) The listing firm and/or listing agent has a track record of failed sales. As a property owner, you wouldn't know this unless you ask the agent for their sales history. Even top producers have failed sales, but it's not the norm, and usually there's a good reason when it does happen. A good agent should know their numbers and have a good explanation. It's the repeat offenders that you have to watch out for. So, here are some questions you could ask a potential agent:
• Of all the listings that you get, what percentage do you sell? What percentage don't sell? Why didn't they sell?
• How many average days on market can I expect for you to market my property before getting an offer?
• How many average days will it take from the day that my property is listed for sale until the day my property closes? (Basically, as the seller, you want to know how long it will take to get your money from selling your property.)
The chart below shows the average amount of days it takes to sell property in Green Bluff.
The time is shown from the day a property is listed (in 20-day groups) until the day it actually closes. 80 days or less is common for Conventional & VA Loans and Cash. The "Other" is usually seller financing or a private money loan. FHA is mostly 60 days or less.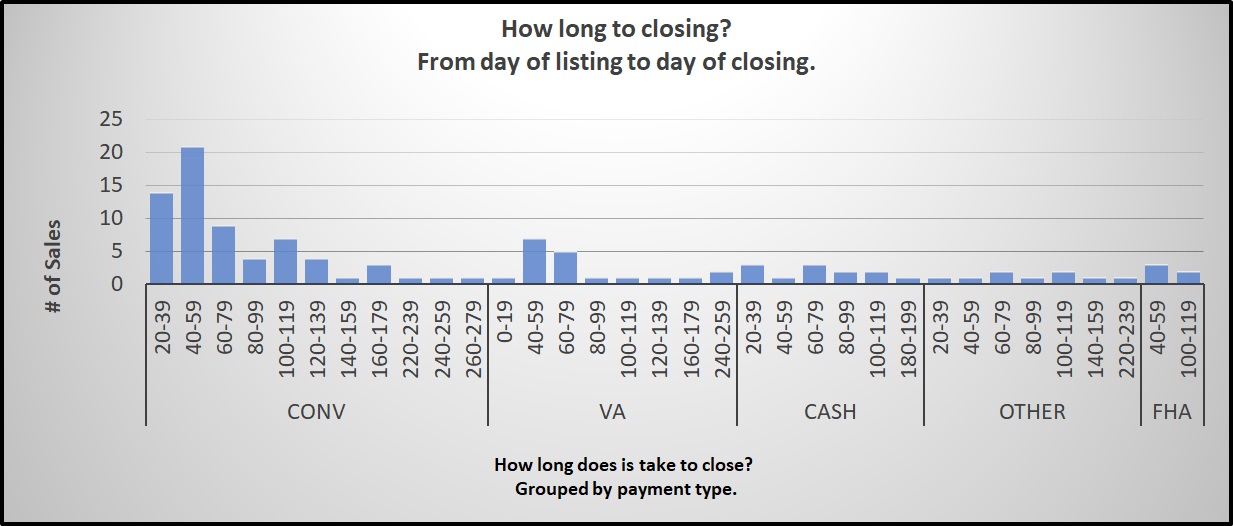 Why a Property Doesn't Sell – 2) The property was priced properly but it's a complex and/or high value property that may take some extra work to sell. Sometimes a seller's property and situation may only fit a small pool of buyers. The amount of time it takes to market a property to get an offer can also depend on the price range. High value properties, aka properties with a big price tag, tend to take longer to sell, and sometimes these big price tag listings will expire once or twice. Why is that? Expensive properties have a limited amount of buyers that can afford them, and those buyers may not be ready to buy yet. Often, these properties sit on the market a while; it may take a bit for the "stars to align."
Take a look at the charts below. The chart on the left shows DOM (days on market = time to get an offer) & inventory by price range for the properties on 1+ acres in the Green Bluff market area. The days on market in the charts below do not include multiple listing cycles. The "Average DOM Sold Properties" only includes the average from the last listing from when a property sold. So, if a property was listed several times and expired, these stats below don't include those TOTAL days on market.
The chart on the right shows that when priced at market value, most properties get an offer in 60 days or less. The longer a property is on the market without getting an offer, the more likely it is overpriced.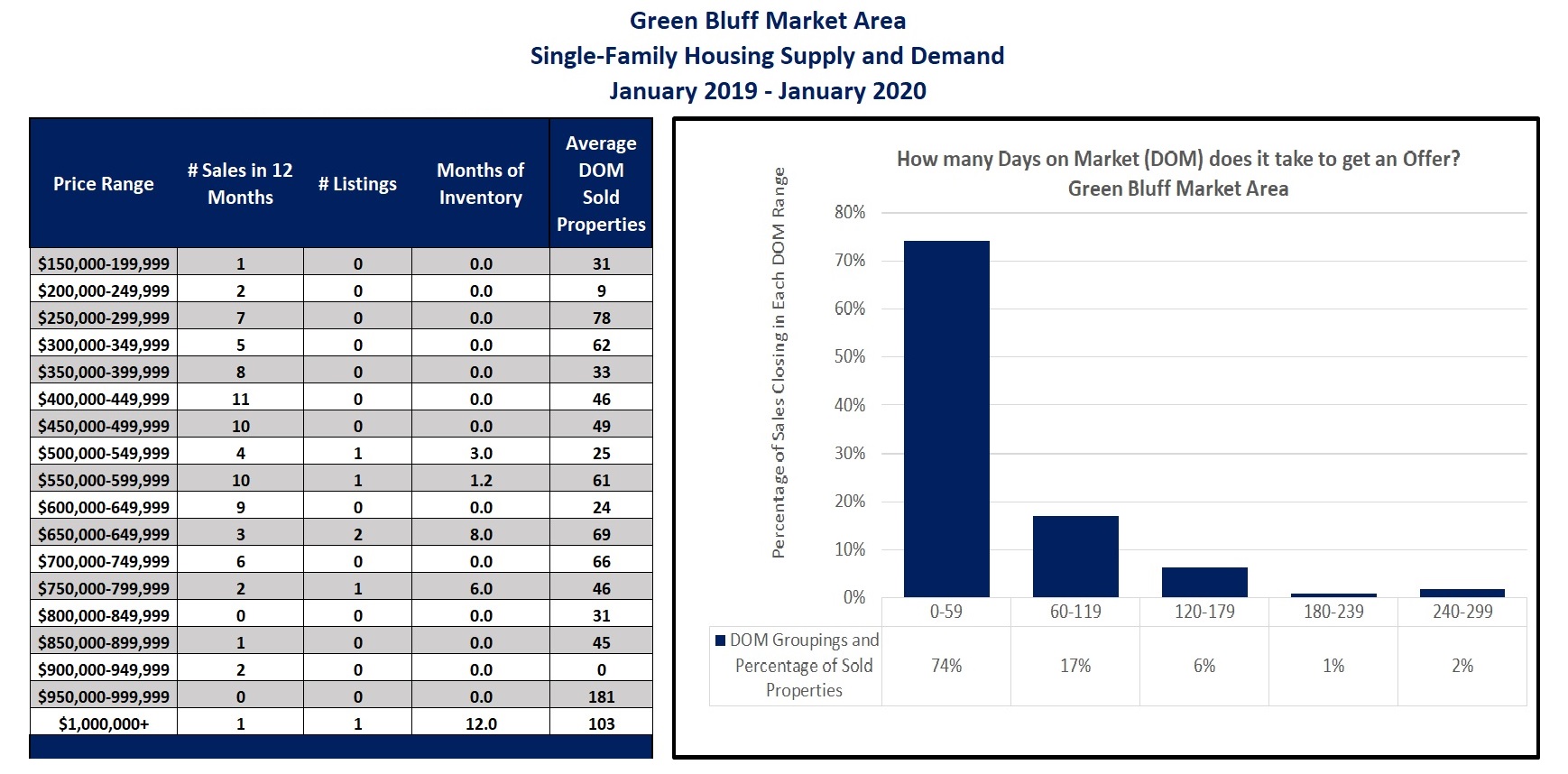 Why a Property Doesn't Sell – 3) The #1 reason a property doesn't sell is because it is OVERPRICED! How does this happen? This discussion could be an entire newsletter unto itself because the list of reasons is quite long.
Green Bluff is a special place! Selling land and acreage properties requires an entirely different skill set and mindset than "postage stamp" lots and houses in town. There are factors that can dramatically affect value and marketability. House types, outbuildings, water availability, septic systems, zoning, wetlands, land use programs, business and residential use, access, topography, maintenance, and other factors make real estate services challenging for rural properties, and especially Green Bluff properties. When these factors are not evaluated properly, properties are often priced incorrectly.
The biggest dangers of overpricing is that it takes a long time to sell (or not sell at all), and properties usually sell for less than market value. Under-pricing can leave a significant amount of money on the table.
Point is, price it right from the beginning.

The following chart displays the overpricing trend for Green Bluff from 2018 & 2019.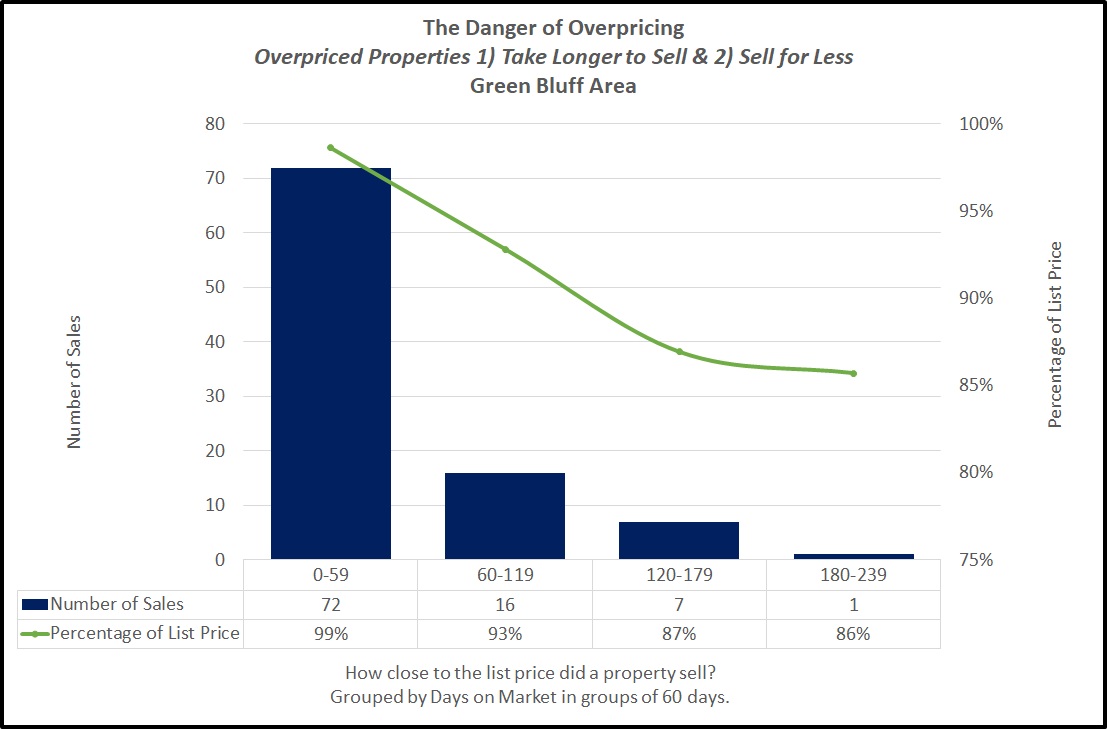 Reason for Appreciation in Green Bluff Property Values
Why are prices going up? Many properties in Green Bluff are valuable because of their special land use for farming and business. Land use and zoning are a huge factor that makes a big difference in property value. Not all properties in Green Bluff have the same zoning, but the properties that are zoned Small Tract Agricultural (STA) have a lot more possibilities for business and agricultural uses, which makes those property values much higher.

Are you selling this year? 5 Tips for selling in 2020
Tip #1 – Hire me, Cody Kerr, the Green Bluff Specialist to sell your property. Most of my listings have sold at or above asking price. I know the Green Bluff market inside and out. I work hard to get top dollar for you! My motto is "Real Service to Real People."
Tip #2 – Days on market (DOM) are dropping. 2019 finished at 44 DOM; marketing time also depends on price range. Generally, higher prices have longer DOM. About 75% of closed sales got an offer in 60 days or less. If it takes longer, it could be a warning sign. Plan accordingly.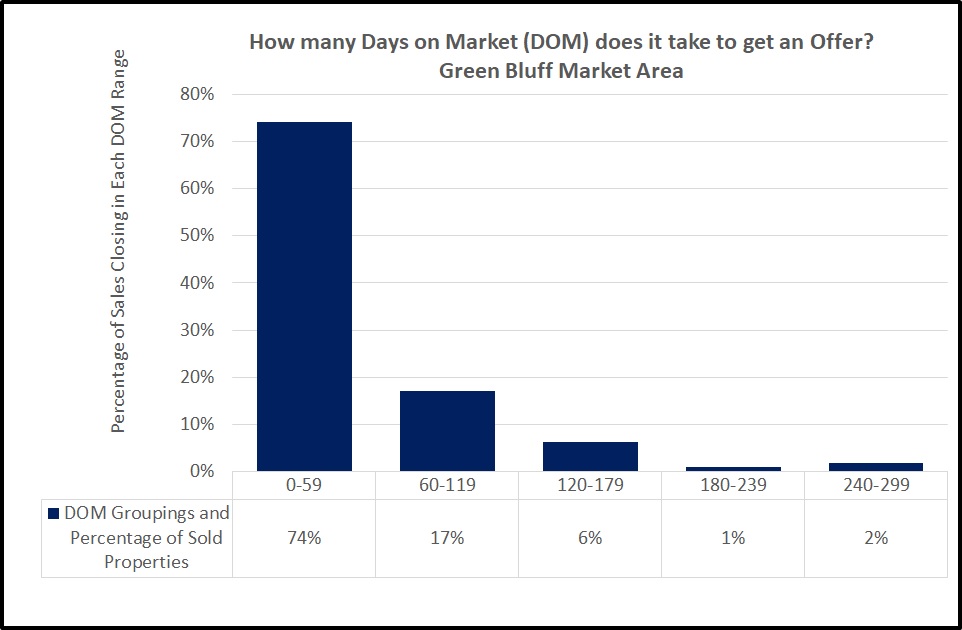 Tip #3 – Buying activity and prices peak April to September (Qtr2 through Qtr3). If you can list your property between Feb. and early July, do it. Your chance at getting a high price and odds of selling are much higher. Around late-August, the market begins to slow.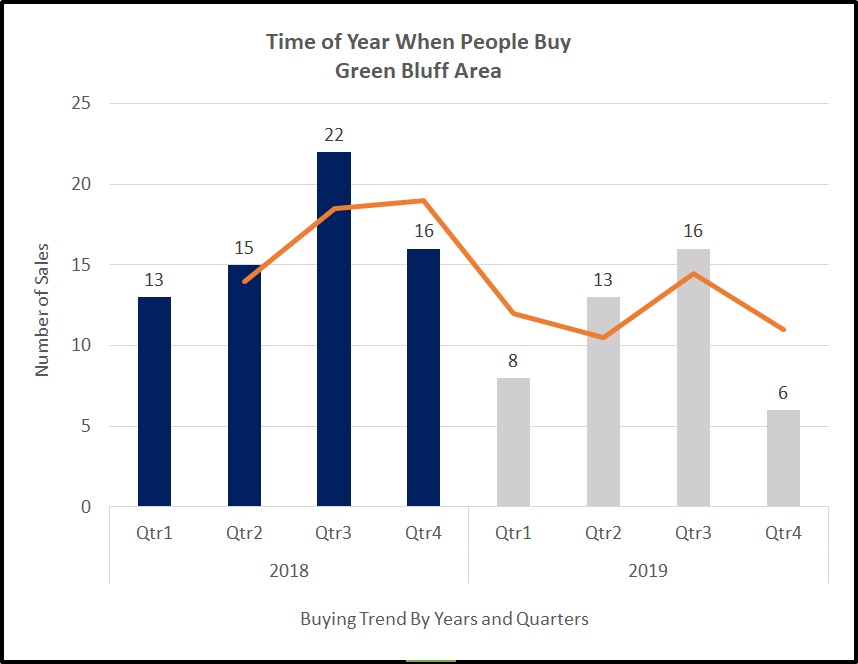 Tip #4 – Price your property correctly from the beginning. About 90% of buyers get a loan, which means an appraisal. Pushing value to the max or over could pay big, but if you don't get a cash buyer within your expected marketing time or if you get a buyer with financing, know what to expect and make changes if necessary.

Tip #5 – Plan ahead. Each property is different and requires a custom pricing package and market analysis. When you're ready, I can put together a full plan to help you sell your property. I'll give you the information, and you make the decisions. Let's talk soon!