Save the Date!
(see article below calendar)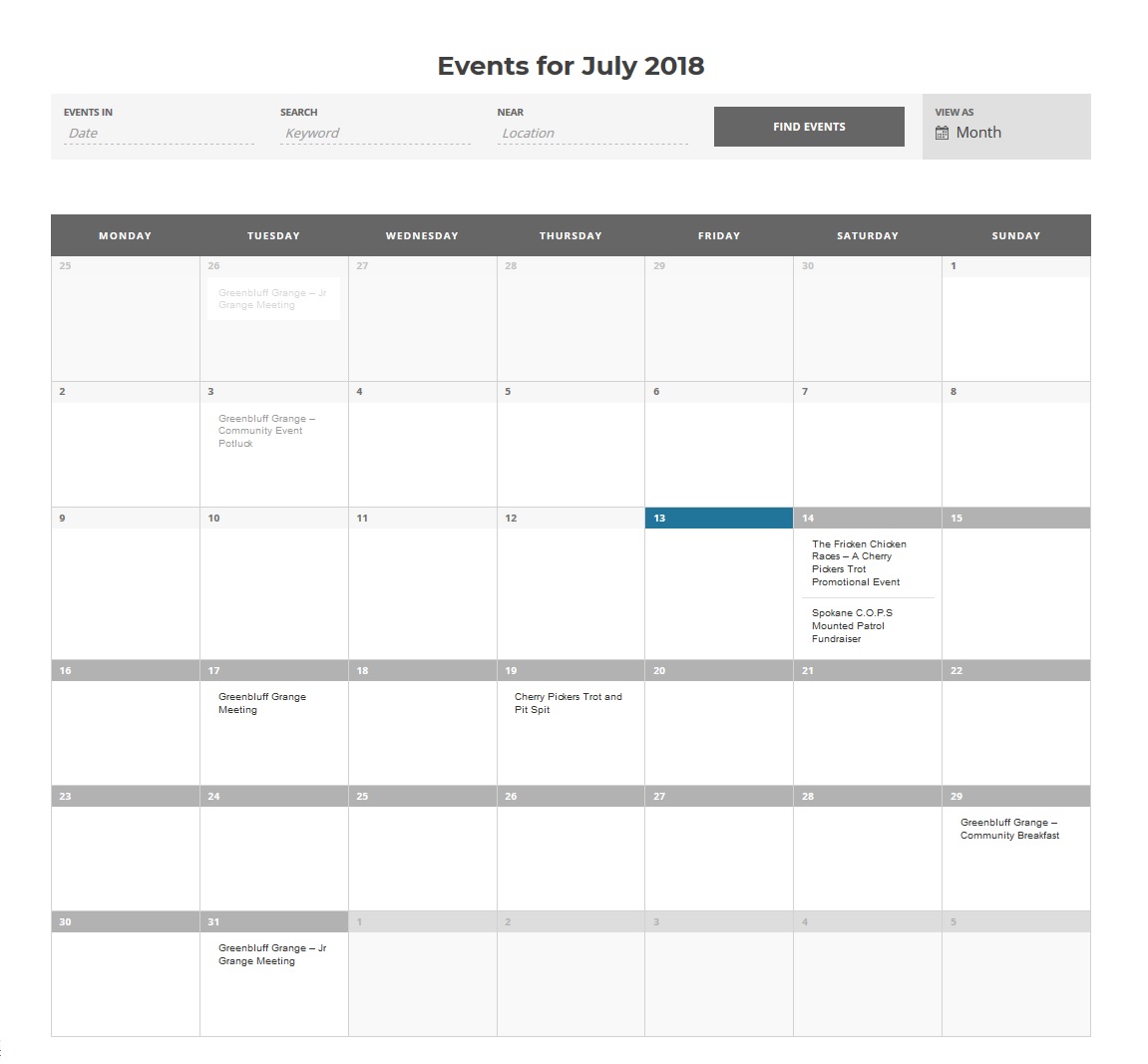 Save the Date!
Green Bluff draws people from far and wide to enjoy what it has to offer. How do people find out what's happening in Green Bluff? Most people search on the internet for Green Bluff activities and then have to sift through results hoping to find something.
Hundreds of people visit my real estate website www.codykerr.com each month. Among those searching for Green Bluff real estate, many inquire about Green Bluff events, which is why I have added a Green Bluff activities calendar to my site. There are two options for adding events:
1. You can email your events, event links, or community activities directly to me at codykerr.realestate@gmail.com and I will add it to the calendar, or
2. Guest Access* – For your convenience, you can register to submit events for free by going here: https://www.codykerr.com/events/community/add/ (*Registration is secure and emails are never sold or shared.)
By registering for guest access, you can edit your event submissions at any time, especially if you need to notify attendees of last minute changes. There are video tutorials online for "How to Register to Submit Events" and "How to Submit an Event" at www.codykerr.com under the "Green Bluff Events" tab on the menu bar. If you would prefer directions in print, here are the steps:
How to Register to Submit Events
1. From the homepage at www.codykerr.com, hover your cursor over "Green Bluff Events" and select "Submit Event" on the dropdown menu.
2. Below the "Log In" button, select "Register." Create a username and enter your email to receive registration confirmation. Open the email from Word Press and click the link provided to create your password.
3. Once you have a username and password, log in to the "Submit Event" page.
How to Submit an Event
1. From the homepage at www.codykerr.com, hover your cursor over "Green Bluff Events" and select "Submit Event" on the dropdown menu. Enter your username and password, then select "Log In."
2. On the "Add New Event" page there are two required fields: 1) Event Title, 2) Event Description, recommended 3) Event Time & Date (Option to select one-time events or under the "Add More Events"
tab you can create recurring events and even have excluded dates).
3. Optional Event Details – The remaining fields for image, categories, tags, venue details, organizer details, event website, and event cost are all optional. However, the more details you can provide for consumers, the easier it will be for them to find your event, and the more likely that they will attend.
4. After completing your event details, select "Submit Event" at the bottom of the page. Once approved, your event will be live on the Green Bluff calendar.
Although it's in its early stages, numerous consumers are already asking to see more events on the calendar. Since it's a work in progress, I would like your help working together to get Green Bluff businesses and general Green Bluff community events in front of a larger audience. Why let your business get lost in a sea of search results when you can put your event on my website that has hundreds of users each month? The event calendar is one of the many services that I can offer to help maintain Green Bluff as a vibrant farming community that is one of the gems of Washington. I look forward to serving you!